Snug Play USA
Snug Play provides a completely new approach to playgrounds and play areas that reinvents the way children play, learn and develop skills. Snug Play systems are made up of a host of large-scale play elements that can be used separately or brought together in endless configurations. Using these pieces children are able to create dynamic and exciting play spaces where they can actively have fun, learn and explore.
Snug play systems can be used and an extended learning resource to bring learning outside of the classroom and promote active thinking skills. All of the Snug Play systems require no installation and the individual components combine soft yet rigid surfaces for a tactile play experience that is weather-resistant.
The Philosophy
Snug Play was originally developed in the UK after an extensive 3 year study observing how children interacted with play equipment. The basis for the Snug Play idea was to create a set of play pieces that are specifically designed to promote active thinking and problem/puzzle solving skills. The ability to rearrange the Snug Play components in any manner desired allows children to open up their creative sides and come up with new ways to play every single day. This approach to play time promotes the development of skills that benefit all children in the long term.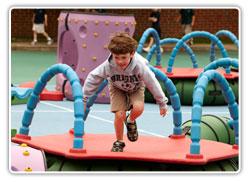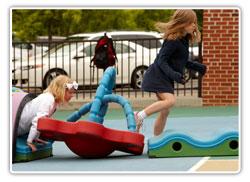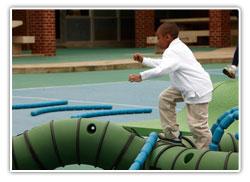 By adding Snug Play systems to your playground or play area you'll bring a new, unexplored level of creativity and fun to your children's play time. Rather then letting them hop around on a static slide and swing, give them the opportunity to explore their creative side with one of the pre-made systems or by customizing your own today.
Benefiting Physical Education
Jan Connell, physical education teacher and the Bright School, explains how Snug Play systems have benefited the school's children more than other systems from the past. These systems allow children to be creative and open up their imagination which is what attracted the Bright School to Snug Play.
Snug Play systems have been designed from the ground up to accommodate all children within the elementary age group. No one will be left out of the fun with a Snug Play system. Children with special needs are able to enjoy the systems as well thanks to their design that encourages creativity that attracts attention from everyone.
A Snug Play system can be added to almost any location where children wish to play. Every type of venue from museums to private play areas benefit from the addition of a Snug Play system. Encourage the creative side of your children today and experience what Snug Play can do for your kids' play time.
Storage Made Simple
Snug Play systems are designed to be as efficient as possible. Storage space is never an issue thanks to the optional storage kit addon available for each system. The individual components of the systems have been manufactured to perfectly fit together inside of the storage unit seen below. An entire playground of equipment and fun can be easily bundled into a small, covert storage unit allowing you to keep your play area clear or any equipment when you require an open space for other activities. All systems also use the same storage kit. Upon purchasing a storage kit and system you'll recieve detailed instructions on how to store in the individual components into the unit.