Our collection of Outdoor Coffee Tables are the perfect centerpiece for an outdoor seating arrangement. Our coffee tables are constructed from recycled materials making them impervious to the outdoor elements guaranteeing they're a lasting piece of your collection.
Looking for a nice accent piece for your outdoor arrangement? Our Outdoor Side Tables fit that bill perfectly. Specifically designed to accent our collection of Adirondack Chairs, these side tables can single-handedly turn a single chair into a outdoor arrangement.
Our collection of Outdoor Bistro Tables work as an ideal casual dining setup. These tables bring modern styling to the classic French, informal bistro tables of their namesake. Choose one of these pieces to turn your patio into a wonderful, casual and informal dining environment.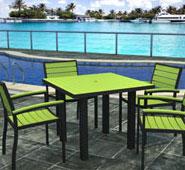 Every Outdoor Dining Table we offer is constructed from recycled materials. This makes them not only easy on the environment but also built to last. Our dining tables are impervious to rain, wind and sun making them chip, rot and fade resistant. You couldn't make a better choice for your outdoor dining area than one of these tables.
Outdoor Bar Tables work perfectly to add a little flair and life to an outdoor patio or poolside area. Set higher than our Outdoor Dining Tables, these bar tables are ideal for a casual and relaxing dining or entertainment experience.